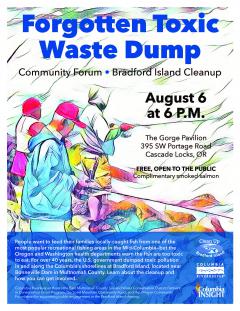 Forgotten Toxic Waste Dump
Community Forum - Bradford Island Cleanup
August 6, 2019 at 6:00 P.M.
The Gorge Pavilion
395 SW Portage Road
Cascade Locks, OR
People want to feed their families locally-caught fish from one of the most popular recreational
fishing areas in the Mid-Columbia—but the Oregon and Washington health departments warn the fish are
too toxic to eat. For over 40 years, the U.S. government dumped toxic pollution in and along the
Columbia's shorelines at Bradford Island, located near Bonneville Dam in Multnomah County.
Learn about the cleanup and how you can get involved.

Columbia Riverkeeper thanks the East Multnomah County Soil and Water Conservation District Partners
in Conservation Grant Program, the Spirit Mountain Community Fund, and the                       
Oregon Community Foundation for supporting public engagement in the Bradford Island cleanup.