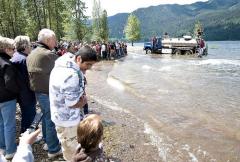 For millennia the Yakama Nation knew that Cle Elum Lake and three other small lakes that flow into the Yakama River served as nurseries for massive runs of sockeye. In the 1890s, settlers began constructing earthen dams to obtain water for irrigating their farms. From 1931 to 1933, the U.S. Bureau of Reclamation rebuilt the dams, making them permanent, while contributing to the die-off of the once abundant sockeye.
Strategy: In 2009, Yakama Nation Fisheries began catching adult sockeye on their return migration at nearby Priest Rapid Dam on the Columbia River, and transferring them to Cle Elum Lake. The adult fish stayed in the lake for a couple of months (July and August), feeding and getting ready to swim above the lake to spawn in the Cle Elum River (in September through November). In the spring, the babies are hatched. They swim back to the lake. The lake will serve as their nursery for one to two years. Then they will out-migrate, leaving the lake via a flue around an earthen dam to the Yakima River. From the Yakima River, they will swim to the Columbia, and traveling on another 330 miles, around four Columbia River dams, to the Pacific Ocean.
Outcome: The first sockeye born in Cle Elum River in over a century is expected in the spring of 2013. Yakama Nation Fisheries continues to transport and release thousands of adult sockeye to Cle Elum Lake in the hope that they will help to repopulate the Yakama River. A restored Coho population will enable the Yakama Nation Treaty Fishermen to sustain our people forever.