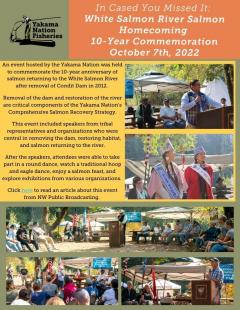 An event hosted by the Yakama Nation was held on October 7th, 2022 to commemorate the 10-year anniversary of salmon returning to the White Salmon River after removal of Condit Dam in 2012.
Removal of the dam and restoration of the river are critical components of the Yakama Nation's Comprehensive Salmon Recovery Strategy.
This event included speakers from tribal representatives and organizations who were central in removing the dam, restoring habitat, and salmon returning to the river.
After the speakers, attendees were able to take part in a round dance, watch a traditional hoop and eagle dance, enjoy a salmon feast, and explore exhibitions from various organizations.
Click 
here
 to read an article about this event from NW Public Broadcasting.