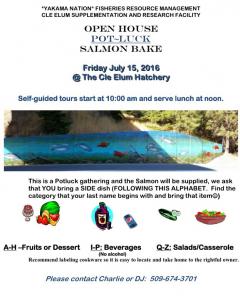 Please come to the 20th annual Cle Elum Open house. 
This is a Potluck gathering and Salmon Bake. We ask that you bring a side dish follow directions below:
Last namestarts with letter : A-H bring fruit or dessert, I-P bring beverages (No Alcohol), Q-Z Salad/Casserole.
Self Guided Tours start at 10:00 am salmon will be served at noon. 
The Supplementation and Research Facility is located at 800 Spring Chinook Way, Cle Elum, WA. 
If you have any questions please Charlie or DJ at 509-674-3701.