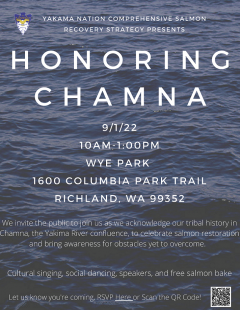 You're invited to the Honoring Chamna event at Wye Park in Richland, WA!
The Confederated Tribes and Bands of the Yakama Nation (YN) invites neighbors from across the region to join us in honoring our ancestral homeland Chamna, where the Yakima River flows into the Columbia. This event is to help educate the community about an illegally constructed man-made causeway located at Bateman Island in Richland, WA. Removal of this causeway and restoration of the delta are a critical component of the Yakama Nation's Comprehensive Salmon Recovery Strategy. Come join us on Sept. 1st, 2022.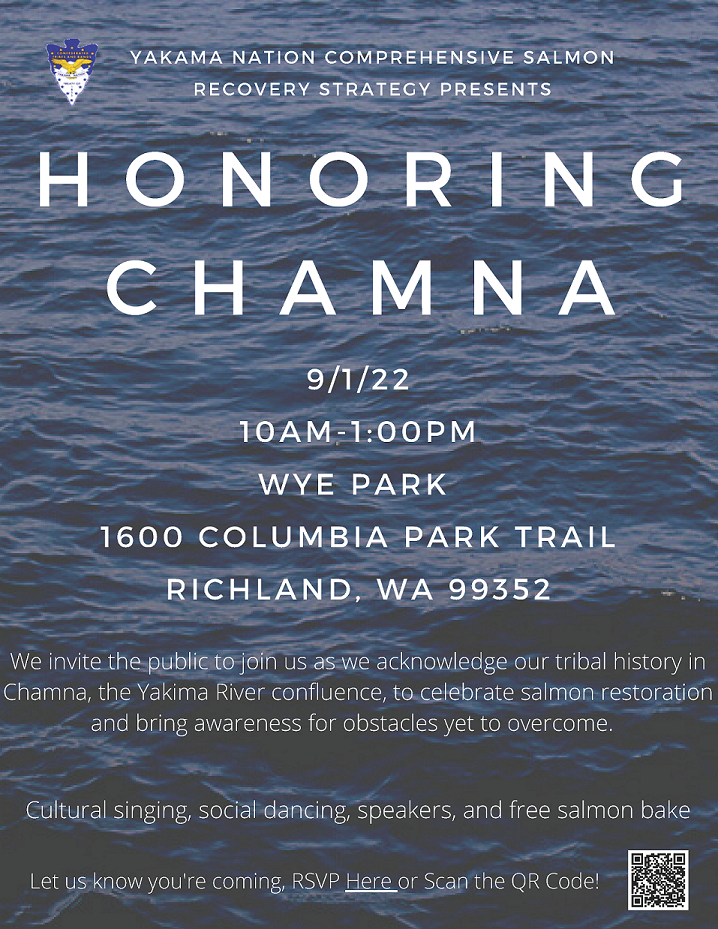 The Bateman Island Causeway is a long earthen barrier that sits at the confluence of the Yakima and Columbia Rivers. The causeway creates a thermal barrier to fish migration and increases mortality of Yakima Basin Salmon and Steelhead.  Removal of the causeway is critical to restoration of the Yakima River. While there is concern regarding removal of the causeway, the Yakama Nation believes that there are solutions. We hope to connect with our neighbors and develop a collaborative approach to restoration of the Columbia River Salmon and Steelhead.
Honoring Chamna event is an opportunity to support the Yakama Nation in salmon recovery efforts. This is a family-friendly event that will include a wide range of salmon-advocacy speakers, cultural songs and social dances, and a free salmon bake.
We have already solved tough problems by working together for the good of our communities and we will do it again. Join us for an event dedicated to honoring and saving our salmon together, with solutions that benefit everyone.
Event details
When:             Thursday, Sept. 1st, 2022
Where:            Wye Park, 1604 Columbia Park Trail - Richland, WA 99352
Time:              10 AM to 1 PM PDT
Please RSVP to let us know you're coming to receive a free event t-shirt!
Honor the salmon. Honor the treaties. Honor our partnerships. 
RSVP Link: https://www.eventbrite.com/e/honoring-chamna-tickets-404437482397