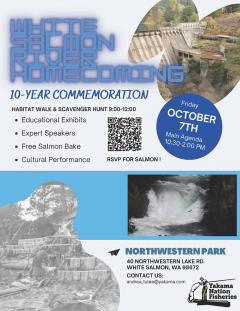 11 years ago,  the Condit Dam was removed and this year the Yakama Nation will celebrate the anniversary of the return of salmon to the White Salmon river. 
Listen to the story
here
on NWPB.
Donella Miller, the Program Manager for the Yakama Nation Fisheries, invites the public to commemorate the return of the salmon more than 10 years ago. 
"It was actually eleven years ago, when the Condit dam was removed and  it took about a year for everything to stabilize and all of the sediments to flush out, and it just within one year the salmon returned."
The Yakamas restored the habitat with native plants of the area that was once covered by water. 
Miller explains, "Why we do this work is tribal people….The cultural aspect of us being salmon people. I was always taught growing up that our natural resources are what sustain us, so it's our responsibility to care for them."
The tribe is hosting an event Friday with activities.