Jamie Hale | The Oregonian/OregonLive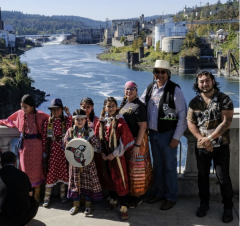 Last weekend Tribal Councilman Terry Heemsah Sr and Yakama Nation's Little Swans represented the Tribe at a commemorative event held near Willamette Falls. This was an important advocacy action for YN to help protect reserved treaty fishing rights in the YN usual and accustomed area by informing the local community of YN's current and historical ties to that land.
Click the link
here
to read the article and view photos from the event.