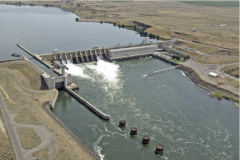 Yakama Nation leaders praise official report on breaching lower Snake River dams
Listen to the discussion on OPB's Think Out Loud here.
Excerpt from the article:
Washington Gov. Jay Inslee and U.S. Sen. Patty Murray recently released a long-anticipated report on breaching the dams along the lower Snake River. Echoing an earlier draft, they said that taking out the dams is ultimately the best chance for threatened and endangered salmon. But they also detailed the enormous impacts dam removal would have on clean energy, transportation and the broader economy. They said now was not the right time to breach the dams, but that that option should continue to be on the table. The Yakama Nation praised Inslee and Murray for "championing a comprehensive approach to Columbia Basin salmon recovery." We talk with Jeremy Takala, chairman of the Fish and Wildlife Committee for the Yakama Nation, about tribal priorities as the process moves forward.