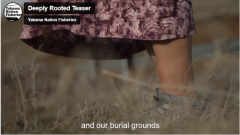 Hello. My name is Jeremy Takala, Tribal Councilmember of the Yakama Nation and Chairman of the Legislative and Fish/Wildlife Committee. The Yakama Nation asks that you receive an announcement from us about our fight to stop a destructive project that threatens an important sacred site to our people. Attached is a press release about the emergency resolution passed at the National Congress of American Indians last week, and also a video teaser that takes a look at this important site to our people. Last week, Yakama Nation attended the National Congress of American Indians bringing an ATNI(Affiliated Tribes of Northwest Indians) seeking NCAI's Executive Committee's support.
Attached is both Resolutions and letters of support from NGO's who stand with Yakama Nation Opposing the Pump Storage Project at Juniper Point, known to us at PushPum located in our Treaty-Territory, on the basis of permanent and irreparable destruction of the Traditional Cultural Properties(TCPs) that hold sacred religious and ceremonial importance to our Yakama Nation.
Attached is a Press Release and information about this project.
Also is a link where you can find video/same information.
https://yakamafish-nsn.gov/deeply_rooted
https://yakamafish-nsn.gov/GoldendaleWaterPumpProject
Please share far and wide, and questions or comments can be directed to me. Thank you for your interest and support.
If there are any questions, please Contact Jerry Meninick, Phil Rigdon, or Jeremy Takala.
 See Press Release below.