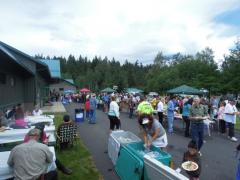 Cle Elum, Wash. - The Yakama Nation hosts the 16th Annual Open House at the Cle Elum Supplementation and Research Facility on July 20, 2012. Self-guided tours start at 10:00am and salmon bake at noon.
"Each year, we showcase the large-scale research of salmon restoration called supplementation," said Virgil Lewis, chairman of the Yakama Nation's Fish and Wildlife Committee.
"Last year we had over 500 guests and each year it seems to grow," said Charlie Strom, Cle Elum Fish Hatchery Manager, with Yakama Nation Fisheries. "We have 790,000 Yakima spring chinook on hand for the 2011 Brood and over 600 adult spring Chinook for the 2012 Brood."
The supplementation process only uses natural-origin broodstock. The project started in 1982 as a mitigation facility, but the unique features of the Yakima River Basin spring chinook populations prompted the Yakama Nation and regional partners to expand the project to include research. The facility is operated and maintained year-round by Yakama Nation employees. The Yakama Nation, Bonneville Power Administration and other government agencies have a collaborative effort to increase and strengthen anadromous fish runs.
The research process is designed to test supplementation technology. "One of the highlights of research is the spawning channel where reproductive success studies have been ongoing for twelve years," said Dr. Dave Fast, Research Manager with Yakama Nation Fisheries.
"We conduct our research outdoors and not in an aquaria," explains Strom. "We have ways to measure different lines of fish, conduct genetic analysis while at the same time salmon select mates and actively spawn."
"With this Open House we share our results and give back to the community," said Strom.
Contact: Emily Washines 509-865-5121 ext.6315 wase@yakamafish-nsn.gov Charlie Strom, 509-674-9390