Articles by Action News Staff, KIMA News; Karlee Van de Venter, NBC; Gorge Country Media; Dori Luzzo Gilmour, NPR, NWPB; Madeleine Hagen, TriNews.com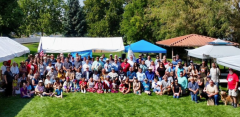 Yakama Nation calls for removal of illegal causeway
Hundreds of people came to Wye Park on September 1 to attend a Yakama Nation event raising awareness about an illegal causeway bridge damaging local salmon survival.
Read the article of the event by NBC/ KNDU news
here.
Yakama Nation demands illegal bridge blocking salmon be demolished
The Yakama Nation is demanding an illegal causeway be taken down, as the bridge has blocked salmon and invited invasive species into the Yakima and Columbia rivers.
Read the article and see photos of the event by KIMA news here.
Hundreds Gather for Yakama Nation Event Advocating for Salmon
Tribe raises awareness about illegally constructed causeway bridge creating damaging effects on salmon survival in the Yakima and mid-Columbia Rivers
Read the article of the event by Gorge Country Media, click here.
Honoring Chamna With Yakama Nation
The Yamaka Nation hosted an event  at the confluence of the Yakima and Columbia rivers in Richland to celebrate Tribal heritage and culture. The event also focused on environmental problems with the Bateman Island Causeway. 
To listen to or read the story, and see photos of the event, click here (NPR) or here (NWPB).  (Run time 1:18)
Advocates calling for removal of Bateman Island causeway to restore salmon populations
YN tribal member and Fisheries employee, Joe Blodgett, was on the evening news to provide informational comments on YN's advocacy to remove the Bateman Island causeway. Watch here. (Run time 2:30)