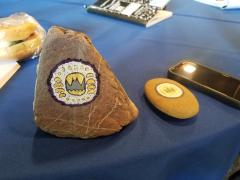 On December 14th, 2022, our Yakama Nation Fisheries, Pacific Lamprey Project received the "LAMPREY ROCKSTAR TEAM AWARD" at the Lamprey Information Exchange meeting in Portland, OR (held at the World Forestry Center).
This was the very first year that the Pacific Lamprey Conservation Initiative handed out these lamprey hub awards.
Congratulations to the Pacific Lamprey Team!
Pictured: Yakama Nation Fisheries Pacific lamprey biologist, Ralph Lampman, accepts the Lamprey Rockstar Team Award.